Directorates
Budget and Treasury Office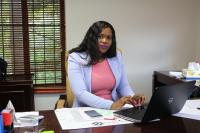 Chief Financial Officer
Ms N Sibobi
BTO's were established after the promulgation of the Municipal Finance Management Act in 2007 and must consist of;
The Chief Financial Officer
Officials of the Municipality allocated by the Accounting Officer to the CFO
Any other person contracted by the municipality for the work of the office
Ubuhlebezwe Municipality established a Budget and Treasury Office and subsequently appointed a CFO as per legislation.
The department is an engine providing strategic financial leadership to Ubuhlebezwe Municipality.
The main functions of the department are:
Revenue Management, Expenditure Management-Budget and Reporting, Supply Chain Management and Asset and Liability Management
The department's guiding principles are
Accountability, Transparency, Reliability, Compliance and Service Excellence.
The Department is also ardent about revenue collection and is also focused on ensuring that municipal debt is decreased to a minimal and acceptable level. This is sought to be done through addressing accounting difficulties in revenue particularly correct and accurate bills to customers.
The department also endeavours to eliminate the culture of non payment within its customers and also establish relationships with its customers thereby contributing to service delivery.
The department also ensures compliance with relevant legislation, regulations and council approved finance policies. In addition, it is of utmost importance that the department complies with all the provisions of GRAP and a full GRAP compliant asset register.
Annual Financial Statements are also prepared at the department and credible annual financial statements contribute immensely on the municipality's credit rating.
| SECTION | PERSONNEL |
| --- | --- |
| Assistance CFO | |
| Supply Chain Management | Mr F.L. Ndlovu |
| Asset Management | Mrs A.S. Ntobela |
| Budget Management | Mrs M.P. Mbatha |
Assistance CFO
MR FL Ndlovu

Manager: SCM
Mr Ndlovu has been with the Municipality since 2003 and is a friendly person who is not easily pleased as he is a hard worker himself.  He believes in team work with a view that two minds are always better than one.
He started his career as an intern at Universal Print Group, then with ML Sultan Technikon (TABEISA) as a Business Advisor.  He then joined the Ubuhlebezwe family as a Creditors Clerk , and was later appointed as an Expenditure Accountant with his assumption of duty as a SCM Manager  in 2010.
His favourite quote is: "Never fail to try, but try and fail"
He has a:
B Com (Honours) : Accounting (year 1 only) (UKZN)
B-Tech : Cost and Management Accounting (DIT)
National Diploma: Accounting (ML Sultan)
Ms AS Cele

Asset: Manager
Ms Silindile Cele has acquired strong financial skills as she started working in Municipal Finance on 1 July 2007 as an Intern at Ugu District Municipality, where she worked in different sections under Budget and Treasury Office. She believes that trusting God and hard work leads to positive results.
She joined Ubuhlebezwe Municipality on 2 July 2012 as Senior Budget and Assets Clerk, she was further appointed as the Asset Accountant. She assumed her duties as Asset Manager in August 2015.
She has National Diploma: Cost and Management Accounting
Her favourite quote: "If you have positive attitude and constantly strive to give your best effort, eventually you will overcome your immediate problems and find you are ready for greater challenges".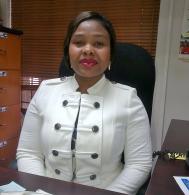 Budget and Treasury Office Documents
Budget & Treasury Objection Forms -
Read more…
Budget & Treasury: Policies -
Read more…
Budget & Treasury Documents -
Read more…