Directorates
Infrastructure Planning and Development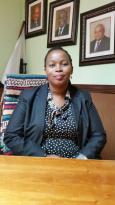 Director: Infrastructure Planning and Development
Mrs S. Ndebele
Infrastructure Planning and Development had endeavored to provide services in various areas such as: Project Implementation, Maintenance of Roads, Storm-water and General Building maintenance, Housing, Building Inspectorate, GIS and Town Planning.
PROJECT MANAGEMENT UNIT
The Project Management Unit is a section within the Infrastructure Planning and Development which is responsible for the implementation of all MIG Projects and any other infrastructural projects within the Municipality. It also has to ensure that the infrastructure is increased, upgraded and maintained properly.
MUNICIPAL INFRASTRUCTURE GRANT
Poverty eradication is still one of the biggest challenges facing our country. Within this context our government has committed itself to the World Summit on Sustainable Development Millennium Targets to eradicate poverty as well as accelerating service delivery. The most important  step that the Government have taken towards addressing these targets is the establishment of the Municipal Infrastructure Grant (MIG) Programme. The programme is aimed at providing all South Africans with at least a basic level of service by the year 2013 through the provision of grant finance to cover the capital cost of basic infrastructure for the poor. It is part of government's overall strategy to eradicate poverty and to create conditions for local economic development. The programme will therefore maximize opportunities for employment creation and enterprise development. The MIG programme fits within the overall development framework of government, which is built on three cornerstones: basic services, food security, HIV/ AIDS. Whilst the MIG programme directly addresses basic services, it also contributes to the other elements since access to basic services improves opportunities.
| DEPARTMENT | PERSONNEL |
| --- | --- |
| PMU | Mr S Mkhwanazi |
| Housing | Ms Z Mazibuko |
Mr S Mkhwanazi
Manager: PMU
Mr Mkhwanazi has extensive experience in project management having been previously employed by the Umzimkulu Municipality together with his employment with  Ubuhlebezwe Municipality for a period of 2 (two) years.  He is straight forward and takes his responsibility towards the development of Ixopo Town very seriously. 
His favourite quote is: ""If you can see people from an angle that this person has something  to offer, that can make you a better person…..you will not only learn  something  but will also be more likely to build more"
He has a:
National Diploma in Civil Engineering
Diploma in Project Management
Currently studying toward Bachelor Degree in Civil Engineering.
Ms Z Mazibuko

Manager: Planning and Housing
A town planner by profession and currently pursuing her studies in B. honours at the University of Free State, this mother of one has more than five years in the Local government field and has worked at Emadlangeni LM and ILembe DM (DBSA deployment) and UMzinyathi DM.  Assumed her duties in September 2013, she believes in always striving for excellence and appreciates the experience that comes with the dynamics of local government.
A God-fearing woman promotes the spirit of Ubuntu especially when dealing with local communities, It's important to put yourself in somebody's shoes before judging and the following quote is what she lives by;
Focus entirely on all & ONLY that which fills you with enthusiasm and joy. Anything otherwise is a waste of energy really…
"Tolerance  and compassion towards fellow human beings marks unity"
Infrastructure Planning and Development Documents
IPD Documents -
Read more…
IPD Policies -
Read more…