The Municipal Manager's Note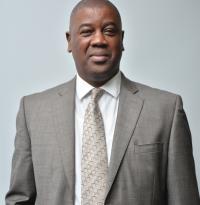 Municipal Manager
Mr. G.M. Sineke
JUST SO YOU KNOW …
He is a results driven kind of man. Mr Sineke loves procedures and working with knowledgeable people.
He is a loving family man, Married with four kids. He has a Masters degree in Organisational development and assessment.
His favourite quote is "If your actions inspire others to dream more, learn more, do more and become more, you are a leader"
As the head of administration and the accounting officer of the municipality, the municipal manager is responsible and accountable for :
Municipal Transformation and Organization
Basic Service Delivery
Local Economic Development
Municipal Financial Viability and Management; and
Good Governance and Public Participation.
The Municipal Manager provides leadership and direction through effective strategies, in order to fulfill the objectives of local government which are provided for in the Constitution of the Republic of South Africa, and any other legislative framework that governs local government.
At Ubuhlebezwe Municipality we uphold the values of integrity and honesty, promoting a culture of collegiality throughout the municipality by delegating duties and rewarding excellence. We also strongly adhere to the Employment Equity policies and ensure that our staff complement has a fair representation in gender and race.
| DEPARTMENT | PERSONNEL |
| --- | --- |
| Chief Financial Officer | Ms N.K. Sibobi |
| Corporate Services | Vacant |
| Infrastructure Planning and Development | Mrs S Ndebele |
| Social Development | Mrs N. Mohau |
Vacant
Manager: IDP/PMS
Municipal Managers Office Documents
Municipal Managers Office: Perfomance Agreement and Plan -
Read more…
Municipal Managers Office: Documents -
Read more…