Directorates
Social Development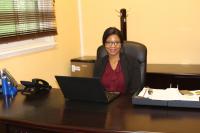 Director: Social Development
Mrs N.C. Mohau
The Department of Social Development is responsible for:
Local Economic Development and Tourism,
Refuse Removal,
Special Programmes,
Youth Programmes,
Library Services,
Local Economic Development
Ubuhlebezwe Municipality is responding to the main challenges of South Africa as out- lined by the 2011 Diagnostic Report of the South African National Planning Commission by ensuring that strategic plans developed by the municipality to drive growth and development in the area do address South Africa's three main social challenges which are poverty, unemployment and inequality. As part of the 2011/12 financial year projects, Ubuhlebezwe has developed and adopted a LED Strategy and a Tourism Strategy. The main pillars of the LED Strategy are based on the Spatial Development Framework which acknowledges R56 as the corridor linking Pietermaritzburg, Ubuhlebezwe and Kokstad, for industrial development and the agricultural sector as the main economic driver for economic growth.
As the way of unleashing the agricultural potential in the area, the municipality is devel- oping an Agricultural Plan to identify projects that can be integrated in the municipal IDP for implementation.
One of the key strategies in the Tourism Strategy is the acknowledgement of the role that the history of Alan Paton can play in the development of the area and to ensure that the legacy that is attached to it is maintained.
The municipality is currently in a process of packaging tourism routes for the whole area of Ubuhlebezwe and conducting a feasibility study and a plan for Carisbrooke which is a place where the story of Alan Paton took place.
Agricultural Plan, Carisbrooke Feasibility Study and Plan, Packaging of Ubuhlebezwe Tourism Route; Local Economic Development and Tourism,SMME's and cooperatives Support, Business Licensing,Youth Programmes & Back to school Campaign, Bursary schemes, Crime and Drug abuse,Business Development Programme, Special Programmes
&Disability,  HIV/ and AIDS
Gender, Women and children,Men sector &SeniorCitizens,Community Safety, Motor
Licensing&Vehicle Licensing, Leaners anddrivers licensing
Firefighting &Disaster Risk Management, Law enforcement, Refuse Removal Household and business refuse removal,Verge cutting, Parks and Gardens Maintenance,Cemeteries and Crematorium
LibraryServices
Booklendingand referencing, Magazines and DVD's,Computerand internet usage
| DEPARTMENT | PERSONNEL |
| --- | --- |
| Local Economic Development | Mr NH Mkhize |
| Community Development | Mr C Ndlovu |
| Community Safety | Mr ZN Mthanti |
| Public Participation | Ms T Hlangu |
| Youth Development | Mr T Gumede |
| Community Development | Ms Z Mpangeva |
| Library Services | Ms N Mngomezulu |
| Waste Management | Mr T Tenza |
Mr C Ndlovu

Manager: Community Development
Mr Ndlovu, 'well known as Gatsheni' has acquired knowledge and skills in policy, sector plans development, interpretation of policies. Ability to identify prioritised economic sectors and effective maximising of scarce resources. My attributes are outcomes driven, service and product orientated.
Implementation of an over view of the most significant global environment, social and economic challenges that faces humankind
Contributing to and directing the strategic planning and objective setting processes with the community services unit.
Worked for South African Sugar Association as Agricultural Loans Advisory Officer, Tongaat Hulletts Sugar as Estate Manager,  Ilembe District Municipality;  LED Unit, The Big 5 False Bay Municipality as Manager: Local Economic Development, Hlombe Project Management (Pty) as Management Consultant
He holds:
 •             National Diploma in Agriculture
•             Basics of Local Government Policy Process
•             Certificate in Project Management
•             National Certificate in Local Economic Development
 ''A creative man is motivated by the desire to achieve, not by the desire to beat others''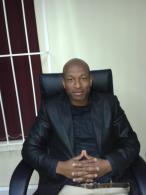 Mr N Mkhize
Manager: LED/Tourism
Mr Mkhize, having joined the Ubuhlebezwe Municipality in 2011, has proved to be a good leader and talented in his field. He is a good listener, is reliable and possesses strong morale.
With his ethical behaviour , he is constantly sensitising his subordinates against corruption and is ever ready to provide support to fellow colleagues to upgrade themselves.
His favourite quote is: "Time waits for no man"
He has a:
National Diploma in Education
EMLDP
Degree: Local Government Specialist
MR ZN Mthanti

Manager: Community Safety
This gentleman has a friendly nature and is always an active participant in team activities, hence his keen interest in soccer.  Having joined the management of Ubuhlebezwe Municipality in the latter part of 2012, he is innovative, creative and most importantly trainable!  He believes in a participative style of management and is a man of strong principles.
His favourite quote is: "You can dodge your responsibilities but you cannot dodge the consequences of dodging your responsibilities."
He has a:
National Diploma in Transportation Management, Planning and Logistics
Traffic Officers Diploma
Qualified Grade A Examiner of Drivers Licenses and Motor Licensing
Qualifications in Project Management, Fire in Technology, computers and public relations.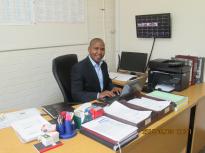 Social Development Documents
Social Development Document & Policies -
Read more…